Speech Writing Service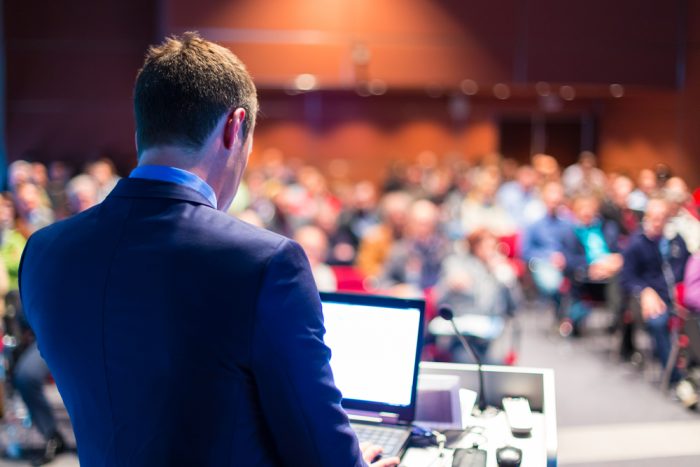 Do you need to give a speech, but are worried about your speech-writing abilities?  At Writers Needed, we can help you.  Our team of professional writers is well-versed in all types of professional writing, including speeches.  You give us the topic, your audience, and your desired length, and we can prepare a custom-written speech that meets your needs.
What is a speech?  
A speech is a formal address given to an audience.  While speeches may be spontaneous, they are usually prepared ahead of time.  The person giving the speech may memorize the entire speech, use notes as reminders throughout the speech, or even read the speech to the audience.
Who are speech writers?
Speech writers are professional writers who specialize in writing speeches. Speeches by public figures are often prepared by speech writers; in fact, even prolific public speakers often have the assistance of professionals.  However, it is becoming increasingly common for others to hire the services of professional speech writers.
Speech writers may write in other professional areas, as well, or they may focus only on speech writing.  They differ from other types of professional writers because speeches are presented in a different format than other types of writing.  Speeches are not prepared like papers, essays, or other forms of professional writing.  Instead, they have to be prepared with the constant realization that there will be a live audience listening to the speech, and, of course, that the audience may interact with, or at least attempt to interact with, the speaker.
Our Speech Writers
Like all of our writers, our speech writers are experienced writing professionals.  All of them have a Master's degree or higher in their field of study.  They come from a wide variety of backgrounds and industries.  They are all U.S. based, native-English speakers.  This is important because, unlike the written word, speech is heavily influenced by idioms, which can be difficult for non-native speakers to master.  In addition, our writers are all trained on SEO, so that even speeches can be optimized if you intend to make a text copy of your speech available online.
How is a speech different from other forms of writing?
A speech differs from other forms of writing in a number of ways, and many of them come down to considering your audience.  Most people read better than they listen.  That means that it is harder to capture attention with a speech, it is difficult to convey a number of complex details in a speech, and a speech has to consistently capture and recapture the audiences' attention.  Therefore, speeches must be written differently than other types of professional writing.
They should:
Start strong.  The opening of your speech is your opportunity to catch your audience's attention.  Maybe you tell a funny story.  Perhaps you tell the audience something stunning.  This is your chance to grab the audience's attention and get them to listen to what you say.
Be structured. While you want a speech to sound like natural language, it is also very important for a speech to have structure.  The speech should follow a logical outline, because that makes it easier for the audience to follow the speech and reduces the chance that you will lose audience members.
Be memorable.  Instead of focusing on a variety of different topics, a speech should have a central theme and relatively few topics, which are reinforced throughout the body of the speech.
Be appropriate.  Always keep your audience in mind.  If you are a best man writing a speech, it can be tempting to turn it into a roast of the groom, but save those types of speeches for the bachelor party.  If you are giving a speech on serious social issues, keep the age of your audience members in mind.  It is possible to talk about serious social issues in an age-appropriate way that does not alienate your audience.
Use repetition.  Generally, people need to hear something more than once in order to remember it.  Using repetition allows you to reinforce the main points of your speech.  However, while you want to use repetition, you do not want to be repetitive.  Use different points or stories to highlight the point you are repeating.
Keep it brief.  Even very experienced public speakers can find it difficult to engage an audience for an extended period of time.  Better to keep your speech short and leave your audience wanting more than it is to bore your audience.
Fast Service
Depending on the topic and the length, our turnaround time for a speech is around 48 hours.  For rush orders, you can even have a speech delivered to you within a few hours.  We are able to do this because we do work with such a large variety of writers, so we can match you with an expert that can write your speech without having to do extensive research to familiarize themselves with the topic beforehand.  Even if you want a speech written about a particular specific person, we can focus on matching you with a writer that specializes in that type of speech.
Affordable Pricing
Our services are also the most affordable in the business.  Notice that we said affordable, but we did not say cheap.  Cheap is never a good thing; it not only implies low-cost, but also low quality.  Affordable, on the other hand, means that you are getting high-quality at a low-cost.  We will never be the cheapest in the business, but we do offer prices that are well-below those of some of our competitors.  Speeches start as low as $XX.
Speech Writing Example
Did you know that rape is not like lightning? That, once you have been raped, you are not somehow rape immune?   It seems obvious, but I had heard that 1 in 4 women will be sexually assaulted in her lifetime statistic so frequently that I had this image of it being a one-and-done thing.  Like, if you were sexually assaulted, it somehow gave you a pass from future sexual assaults.  You know, the world's most terrible vaccine.
Then I started to learn about this horrible thing, human trafficking.  Before I learned about trafficking, I had a very naïve view of prostitution.  I pictured willing, adult prostitutes and adult johns in a business transaction for what was essentially physical labor.  While that might describe a small proportion of the modern day sex trade, it turns out that most prostitutes are no, in fact, willing adults, and that prostitution is actually highly linked to both slavery and sexual assaults.  Not only are prostitutes at higher risk of sexual assault and other violence than other women, but women and men who have been victimized, particularly as children, are more likely to find themselves in vulnerable scenarios where they are being trafficked.
So, rape being like lighting?  No; as it turns out, rape culture actually plays out the other way.  The people most vulnerable to sexual assault are ones that have a history of sexual assaults, like children running away from sexual abuse or women and children who have already been part of the sex trade.  Our laws and our criminal justice system, however, fail to reflect this.  Even when a prostitute is underage, he or she is far more likely to be arrested and prosecuted than a john.  In fact, we treat trafficked women and children like criminals, instead of targeting their johns or their pimps.  These same people often go back, undetected, into their home communities, where they are free to commit sexual violence against vulnerable children, perpetuating the cycle.
Rape is not like lightning, but maybe justice should be.  Instead of going after the victims of trafficking, maybe we need to go after the people perpetuating their abuse, and strike swiftly and with tremendous force, just like lightning.  That is why I am asking you today to support The Not For Sale Fund and its efforts, not only to end human trafficking, but also to eradicate rape culture at its roots.
Conclusion
Whether you need a speech for a party, a call to action, an issues speech, or even material for a comedic roast, our speech writers are here to create the perfect speech for you.  Not sure whether we can help you?  Contact our customer service today and find out what we can do for you.