Press Release Writing Service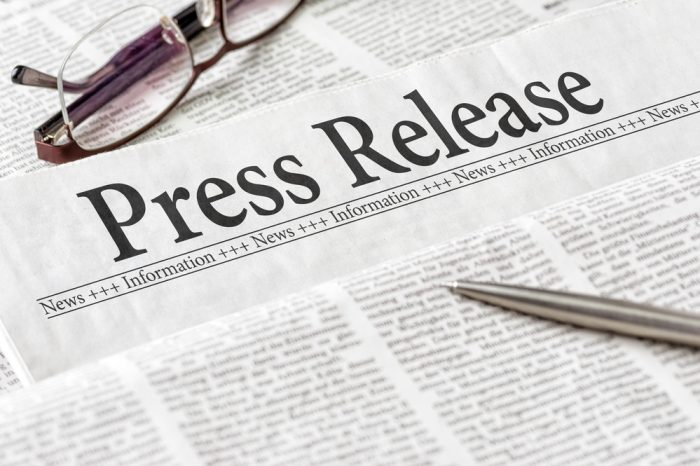 Press releases used to be one of the few reliable ways to get unpaid media coverage of an event you considered noteworthy.  While the evolution of digital media has certainly increased the ability to get information about your products and services to the media, the press release remains the best option for providing information about events that are new or noteworthy for your business.
What is a press release?  
A press release is any type of recorded or written communication that is directed at members of the press or media, for the purposes of making an announcement. They are sent to the media via email, fax, or regular mail.  Press releases may be directed towards general editors or journalists, though they are usually sent to an editor or journalist that specializes in a particular area.
How does the media decide which press releases to print?
Just because you send a press release to a news outlet does not ensure that it will print the press release.  The journalist or editor makes the decision whether to print a press release based on many factors.  Some of those factors are outside of your control, like the amount of available space in the publication.  However, other factors are in your control.  Is the press release interesting?  Is it relevant?  Is it formatted in AP style, making it easy for them to use in a publication?
How do I order a press release?  
For us to write a press release, we need information from you about a newsworthy event that has happened.  You do not have to "sell" the story to us; our job is to turn it into a story that you can "sell" to the media, but we do need information like dates, times, and why this information is considered newsworthy. We also need a little background information on you.  Are you a business, a civic organization, or a governmental entity?  What is your role in the news that you are sharing?  What is your contact information?
Once you have provided us with the necessary information, we find the right writer for your press release.  This decision is based on a number of factors, including the writer's relevant experience working with press releases for your field or industry.  The writer looks over the information you have given us.  If all of the information for a press release is there, the writer writes and sends over the first draft of your press release.  If the writer needs additional information before writing the press release, then you may need to answer a few questions. Generally, our customers are thrilled with the first draft.  However, if you are not, then the writer will work with you on revisions until you are thrilled.
Press Release Writers
Our press release writers are all experienced professional writers who are well-versed in all types of business writing.  We work with a wide variety of writers from different backgrounds, so that we can match your order with someone with relevant industry experience.  Many of our writers are former or current journalists, and all of our writers are well-versed in AP style for press releases.
Our writers are all U.S. based native-English speakers, who are familiar with global media conventions.  In addition, our writers are content creators; they know that all content is potentially digital, so all content will be SEO.
Fast and Affordable
Our turnaround time for a typical press release is less than 48 hours, and, with a RUSH order, you can have a professionally written press release within a few hours.  Our services are not cheap, but they are affordable. What is the difference between cheap and affordable?  We believe that cheap means low prices without regard to quality, while affordable means high-quality at a low-price.  By matching you with industry-expert writers, we can ensure high quality and low prices, while still paying wages high enough to attract and retain industry-leading writers.  You can get a basic, one-page press release starting as low as $XX.
Example
FOR IMMEDIATE RELEASE
SNAP MOBILE FREE SPAY AND NEUTER VAN COMING TO WEST BEND COUNTY
FEBRUARY 20, 2018- TWO LOCATIONS
SMART ENERGY CENTRE PARKING LOT
ELMOS HIGH SCHOOL PARKING LOT
8AM to 6PM, Tuesday, February 20, 2018
SNAP, West Bend County Pets Alive, and the West Bend County Animal Shelter are mobilizing the free spay and neuter vans at two West Bend County Locations.  The Sugartown location will be at the Smart Energy Centre, in the parking lot immediately in front of the center.  The Mississippi City location will be in the Elmos High School faculty parking lot.
The SNAP Mobile Free Spay and Neuter Van provides free spaying and neutering for dogs and cats.  To be eligible for free spaying or neutering, you must meet the program's income guidelines.  You can prove eligibility by demonstrating current eligibility for: Food Stamps, free or reduced-price school lunch, Medicaid, utility assistance programs, TANF, or Section 8 Housing Assistance.
Spays and neuters are on a first-come, first-serve basis.  There is a limit of four animals per household at each spay or neuter event. The vans are normally able to handle up to 30 surgeries in each event day.
Each day, West Bend County Animal Control euthanizes dozens of companion animals because of shelter overcrowding.  Spaying and neutering helps reduce animal overpopulation, and can help move West Bend County towards its goal of having a no kill animal shelter by 2020.  It can also help reduce the risk of nuisance animals, which are a problem in many areas throughout West Bend County.  These groups of stray dogs and feral cats can increase the risk of bites, scratches, and animal-transmitted diseases.
In addition, spaying and neutering are important components of responsible pet ownership.  Spaying female pets can reduce the risk of uterine infections and breast tumors.  Neutering your male pet prevents testicular cancers and some prostate issues.  Spayed or neutered pets also tend to behave better.  Spaying prevents female pets from going into heat, which can decrease the urge to wander, and reduce the likelihood that she will urinate in the house.  Neutering male pets reduces their risk of wandering from home. Neutering also reduces the chances that your male pet will scent mark his territory or mount other animals, people, and inanimate objects; the younger the pet is neutered, the more likely you are to see these improvements.  More importantly, almost all dog attacks are by intact male dogs; neutering your dog significantly lowers the risk that he will attack another pet or a person.
Contact
To learn more about West Bend County Animal Control, and its free or low-cost animal health programs, contact:
Claudia Sheen
West Bend County Animal Control
1111 West Bend County Road
West Bend, TX
888-555-1515
csheeen@westbendcountyac.gov
---
Conclusion
At Writers Needed, we are here to help with all of your professional writing needs.  Our SEO friendly content is ready for you to use in any type of media and is perfect for digital communications.  Whether you need a press release to use on your own website or wish to send it for publication to other organizations, our AP Style press releases are formatted perfectly and ready to use.  Try us today and see the difference the professional writing will make in your media communications.